Jerald Peterson Oils & Watercolors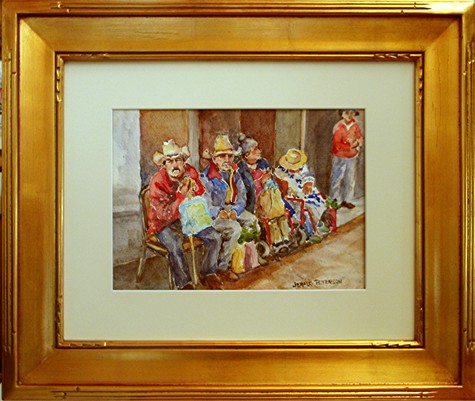 Waiting in Jalpan



This painting is a colorful 'slice of life' watercolor painting. The size is 22x26. The price of this painting is only $450 plus shipping.

Jerald is an acclaimed oil and watercolor painter who has won numerous awards at exhibitions and outdoor fine art festivals. His subject matter varies--monasteries, arches, courtyards, barns, Mexico, Paris, and old world portraits.

If you like a piece you see on our website, call Molly at 918-810-3615. Also if you have an idea of a painting that you would like to discuss with the artist, call me. Please peruse our website to see all the beautiful paintings and prints.

Formerly represented by Milan Gallery in Fort Worth, Judy Wade Gallery in Santa Fe,and Weatherburn Gallery in Naples, Jerald is now looking for gallery representation.

Jerald and Molly live in Tahlequah, OK, a small progressive city in Oklahoma, and home to Northeastern State University. It is where they landed after living over twenty years overseas in Peterson's first career as a Operations Officer for the C.I.A.

Jerald spends his days in his studio barn painting, teaching private students, and giving painting workshops. Call Molly anytime on her cell: 918-810-3615.