Jerald Peterson Oils & Watercolors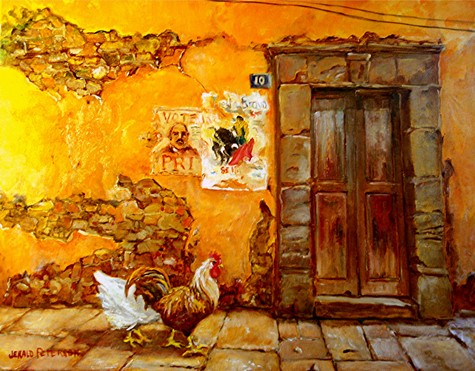 "San Miguel Street"



What a typical street scene in San Miguel de Allende! Everything from the rustic look of peeling stucco, the peeling political and bullfight posters, and the pedestrian chicken traffic works together to make this a dynamite oil painting.

Jerald is an acclaimed oil and watercolor painter who has won numerous awards at exhibitions and outdoor fine art festivals. His subject matter varies--monasteries, arches, courtyards, barns, Mexico, Paris, and old world portraits.

If you like a piece you see on our website, call Molly at 918-810-3615. Also if you have an idea of a painting that you would like to discuss with the artist, call us. Please peruse our website to see all the beautiful paintings and prints.

Jerald and Molly live in Tahlequah, OK, a small progressive city in Oklahoma, and home to Northeastern State University. It is where they landed after living over twenty years overseas in Peterson's first career as a Operations Officer for the C.I.A.

Jerald spends his days in his studio barn painting, teaching private students, and giving painting workshops. He and Molly participate in a couple or three outdoor art festivals during the year. Call Molly anytime on her cell: 918-810-3615.